Wearable Technology
Speaker:
Judy Taylour
President, Santa Clarita Valley Computer Club
Chair, APCUG Board of Advisors
The pace of technology is changing fast and wearable devices are now the "in" thing for groups of all ages. According to analysts at Gartner Research, the "smart wearable" market, as a subset of the Internet of Things (IoT), generated $28.7 billion in 2016. If you want to move more, sleep better, and improve your overall health, a fitness tracker can help. 
Judy will give an historical overview of how these devices emerged on the scene. Like all technological revolutions, the fitness tracking device has its origins in diverse needs, and the growth of technological change brought it all together. Carolee Montgomery, a friend of Judy's, will talk about her FitBit, how she uses it, etc.  AND…. LACS Members! If you have any type of wearable technology, please bring it to share with us; join the discussion, and tell us how you use it.
Judy is a 29-year member of the Santa Clarita Valley Computer Club where she serves as President, Editor, and Webmaster. She is also co-facilitator for the Southern California Regional User Group Summit (SCRUGS), a group of computer clubs in Southern California who have gotten together quarterly for about 20 years to share ideas and to present information, solve problems, etc. She has taught adult education computer classes for 20 years through her local high school district and is a member of the Pierce College Computer Applications and Office Technologies Advisory Committee that meets annually to suggest courses for the next school year. Judy, a firm believer in life-long learning, holds various positions in APCUG.
Tuesday, June 13, 2017
Fellowship Hall
8065 Emerson Ave.
7:30 – 9:00 pm
Westchester (90045)

Meeting Flyer
Pre-presentation:
6:30 – 7:20 pm: Computer Forum, an informal Q&A where members and visitors share with and help one another.
7:00 pm: Refreshments and Socializing.
Set up volunteers are welcome from 6:00 pm onward.
Future Meeting(s):
• July 11, 2017 – Exploring the Internet: Evidence-Based Medicine
---
User Friendly Archive:
To read an archived User Friendly issue, in the right hand menu column click on the pointer triangle next to User Friendly Issues. When the list of available items is shown, click on the desired one.
LACS Audio Archive:
To listen to the audio portion of past General Meetings in streaming format, in the right hand menu column click on the pointer triangle next to Podcasts. When the list of available Podcasts is shown, click on the desired podcast.
To Subscribe to the General Meeting mailing list:
Send a message with your name to:



In an effort to keep spam bots from harvesting e-mail addresses, the e-mail address above is published such that you cannot click through to your mail client.
---
Special Offers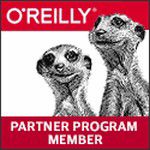 O'Reilly Partner Program
LACS is an O'Reilly Partner.
Click Here