GENERAL MEETING Via Zoom
TUESDAY March 9, 2021
L.A. Computer Society (LACS) MEETING
PLACE: Your Home
TIME: 7:00 – 9:00 PM  Meeting, Speaker, Q&A
6:30 to 7:00: Socializing , Questions, and Practice Using Zoom
Our  meeting, like previous meetings, will be held remotely by Zoom to protect everyone from COVID-19. LACS members on our email lists will receive an invitation two or three days before the meeting. Other people may attend, but they need to RSVP and be approved first for security reasons. Please send your full name and email address to <editor@lacspc.org > by March 6. We will email you the link to this Zoom meeting. To join LACS, go to www.lacspc.org .
What Will 5G Mean for You in 2021?
Speaker:  Ron Brown, APCUG Speakers Bureau, Silvercom Computer and Technology Club, Mesa AZ.
In 2021 5G phones and fixed base 5G will roll out across the USA and Canada. All major cell phone carriers are upgrading their services to 5G. What does this mean for you? Is 5G ready and should you consider upgrading your phone? What are the advantages and limitations of 5G? The wireless companies are also promoting services called Fixed Base 5G for Television service and the Internet. How does this compare to existing technology and should you sign up? Q & A.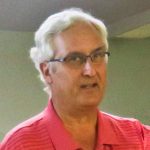 Ron is a retired technologist. He was a Canadian Flight Surgeon and then started a family medical practice on Vancouver Island. Ron wanted an electronic office and bought an interest in a start-up software company in Calgary that made an Electronic Patient Record.
---
User Friendly Archive:
To read an archived User Friendly issue, in the right hand menu column click on the pointer triangle next to User Friendly Issues. When the list of available items is shown, click on the desired one.
LACS Audio Archive:
To listen to the audio portion of past General Meetings in streaming format, in the right hand menu column click on the pointer triangle next to Podcasts. When the list of available Podcasts is shown, click on the desired podcast.