JUN 9  GENERAL MEETING 

6:30 to 9:00 P.M.

Because of restrictions due to corona virus we will be meeting "virtually"
via ZOOM.
Please look for the email sent out by our president the day before the meeting with the link to the ZOOM meeting.
TUESDAY JUNE 9, 2020
L.A. Computer Society (LACS) MEETING
PLACE: Your Home
TIME: 7:30 – 9 PM  Meeting, Speaker, Q&A
6:30 to 7:30: Socializing , Questions, and Practice Using Zoom
Our June meeting, like the May meeting, will be held remotely by Zoom to protect everyone from COVID-19. LACS members on our email lists will receive an invitation two or three days before the meeting. Other people may attend, but they need to RSVP and be approved first for security reasons.
Watch your email for updates and Zoom tips.
---
June 9 General Meeting – Online
Speaker: JUDY TAYLOUR, PRESIDENT, SCV COMPUTER CLUB
Topic: The Cloud is Here – Don't Get Left Behind

Are you using the Cloud? Many people still answer, no. We seem to need buzz words to define anything related to computers, and this is one that sometimes mystifies people. To some degree, we are all using the Cloud, but there can be more out there that we can take advantage of.
Where is the Cloud? Is it safe? We all have more than one device. How can we keep our data files in sync on all of them? We want to be able to share files with family, friends, and associates, but emailing them is not very efficient. Is there a better way?
About Our Presenter: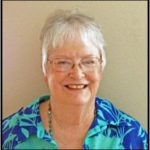 Judy Taylour, President, SCV Computer Club and Chair of several APCUG (an international organization of technology and computer clubs) committees. Judy has spoken to us several times including on Ergonomics and Digital Asset Estate Planning.
Judy is a 32-year member of the Santa Clarita Valley Computer Club where she serves as President, Editor, and Webmaster. She is also co-facilitator for the Southern California Regional User Group Summit (SCRUGS), a group of computer clubs in Southern California that have met quarterly for over 20 years to share ideas and presenter information, solve problems, etc. Judy taught adult education computer classes for 22 years through her local high school district. She is a member of the Pierce College Computer Applications and Office Technologies Advisory Committee that meets annually to suggest courses and hardware for the next school year. She is a firm believer in life-long learning.
---
User Friendly Archive:
To read an archived User Friendly issue, in the right hand menu column click on the pointer triangle next to User Friendly Issues. When the list of available items is shown, click on the desired one.
LACS Audio Archive:
To listen to the audio portion of past General Meetings in streaming format, in the right hand menu column click on the pointer triangle next to Podcasts. When the list of available Podcasts is shown, click on the desired podcast.