---
July 9 2019
7:30 to 9:00 P.M.
Westchester United Methodist Church
Fellowship Hall
8065 Emerson Ave.
Westchester, CA 90045
---
 "You, Your Tech Devices and Ergonomics."
Judy Taylour,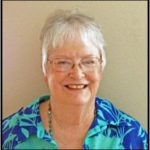 President, SCV Computer Club; Chair of several APCUG
(an international organization of technology
and computer clubs) committees
Sit straight! Arms relaxed! Feet on floor! Wrists/hands floating! Cumulative trauma! Repetitive stress syndrome!
We have all been using technology for many years; are we still practicing good ergonomics? Or, are we stressing our bodies every day without realizing it by extending our wrists, slouching, sitting without foot support and bending our head to look at poorly placed monitors?
Along the way we started using tablets and smartphones which have a different set of ergonomic issues.
This presentation will take us down memory lane on computer ergonomics and give us ideas on proper use of our tablets and smartphones.
Judy is a 31-year member of the Santa Clarita Valley Computer Club where she serves as President, Editor, and Webmaster. She is also co-facilitator for the Southern California Regional User Group Summit (SCRUGS), a group of computer clubs in Southern California that have gotten together quarterly for over 20 years to share ideas and presenter information, solve problems, etc. Judy taught adult education computer classes for 22 years through her local high school district and is a member of the Pierce College Computer Applications and Office Technologies Advisory Committee that meets annually to suggest courses and hardware for the next school year. Judy is a firm believer in life-long learning. 
---
User Friendly Archive:
To read an archived User Friendly issue, in the right hand menu column click on the pointer triangle next to User Friendly Issues. When the list of available items is shown, click on the desired one.
LACS Audio Archive:
To listen to the audio portion of past General Meetings in streaming format, in the right hand menu column click on the pointer triangle next to Podcasts. When the list of available Podcasts is shown, click on the desired podcast.
To Subscribe to the General Meeting mailing list:
Send a message with your name to:



In an effort to keep spam bots from harvesting e-mail addresses, the e-mail address above is published such that you cannot click through to your mail client.