GENERAL MEETING Via Zoom
TUESDAY NOV 10, 2020
L.A. Computer Society (LACS) MEETING
PLACE: Your Home
TIME: 7:30 – 9:00 PM  Meeting, Speaker, Q&A
6:30 to 7:30: Socializing , Questions, and Practice Using Zoom
Our November meeting, like the October meeting, will be held remotely by Zoom to protect everyone from COVID-19. LACS members on our email lists will receive an invitation two or three days before the meeting. Other people may attend, but they need to RSVP and be approved first for security reasons, using this link:  https://forms.gle/29V9TdmzbA54ekwq9
---
---
Topic: Saving Your Life with Wearable Technology, Part II
Speaker: Ron Brown, M.D., APCUG Speakers Bureau, Silvercom Computer and Technology Club, AZ
Ron Brown spoke to us in July on Part I of this topic including smart watches and other devices that can get help quickly for a person who has a medical emergency and cannot reach a phone or other help. These devices can make records that will help a doctor diagnose and treat the patient. Some detect that your heart is beating too fast (A-Fib – atrial fibrillation) or too slow (you need a pacemaker). Even one EKG shows a lot about the history of the cardiovascular system. This technology is constantly changing. What's new? How should you plan for a medical emergency? What hardware and software are important? How should you connect your devices? Use smart phones and computers? Fast and reliable internet connection? Stay connected to people? Planning ahead to get and effectively use the right devices could save your life or that of a loved one.
Meet Our Presenter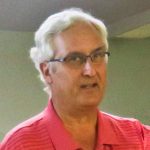 Ron Brown is a retired technologist. He graduated in Medicine at the University of Alberta in 1976 and then became a Flight Surgeon. In 1981, he left the military to start a Family Practice on Vancouver Island, British Columbia. PC's were just being produced and Microsoft Windows was going to integrate everything. He wanted an electronic office, so he bought an interest in a start-up software company in Calgary, Alberta that made an Electronic Patient Record. As his Family Practice grew, so did his software company, becoming an international company. He traveled across Canada and the U.S. giving papers at many conferences on patient management, lab integration, security, and data input.
---
User Friendly Archive:
To read an archived User Friendly issue, in the right hand menu column click on the pointer triangle next to User Friendly Issues. When the list of available items is shown, click on the desired one.
LACS Audio Archive:
To listen to the audio portion of past General Meetings in streaming format, in the right hand menu column click on the pointer triangle next to Podcasts. When the list of available Podcasts is shown, click on the desired podcast.