September 14  GENERAL MEETING
7:00 to 9:00 P.M.

Because of restrictions due to corona virus we will be meeting "virtually"
via ZOOM.
Please look for the email sent out by our president the day before the meeting with the link to the ZOOM meeting.
 6:30-7:00: Socializing and Questions and Answers
If you want to attend and are not a LACS member, please send your full name and email address to < leahjc@sbcglobal.net > before Sept 12. You will receive the link to the Zoom meeting by email.
STREAMING,  A THING OF THE TIME

RAY BAXTER
Remember when it was so "cool" to have a push-button AM radio in the car? This presentation will review how to use your existing Compact Disc collection, now that many new cars no longer have a CD player, by streaming from an online service, using Bluetooth, flash drives, smartphones, etc. Q and A.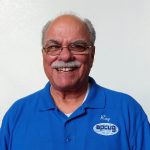 Ray Baxter's first introduction to personal computers was a Radio Shack purchase in 1986. It has been a constant learning experience since then to stay current with changes in technology. Ray joined APCUG as the Region 9 Advisor in 2013. He was then elected director and served as treasurer. In 2021 Ray also became APCUG's President.
Before retiring, Ray had a 40+-year career in international banking. He worked for three major money center banks in New York and Los Angeles in operations, business development, and administration.
He then moved to Arizona. As the long-time President of the Payson Area Computer Association, he changed PACA into a "Meet-up" computer and technology club using Zoom for its monthly meetings. He spoke to LACS on "How Technology Has Changed the Way We Listen to Music." You can see a version of this talk at
https://www.youtube.com/watch?v=_VDABuf8epk

.
---
 User Friendly Archive:
To read an archived User Friendly issue, in the right hand menu column click on the pointer triangle next to User Friendly Issues. When the list of available items is shown, click on the desired one.
LACS Audio Archive:
To listen to the audio portion of past General Meetings in streaming format, in the right hand menu column click on the pointer triangle next to Podcasts. When the list of available Podcasts is shown, click on the desired podcast.