JUNE 13, 2023 GENERAL MEETING
Meeting Time: 7:00 to 9:00 PM via Zoom
Socializing and Q and A: 6:30-7:00 PM
Topic: Artificial Intelligence – New Kid on the Block
Speakers:
Judy Taylour, APCUG Speakers Bureau
President and webmaster, SCV Computer Club
Stephanie Nordlinger, LACS VP                 
Judy Taylour will give us an overview of Artificial Intelligence with ChatGPT, inluding the history of AI, what it is, what you can do with it, and ChatGPT schemes to look out for. After Q&A, Stephanie will show us four short ChatGPT videos.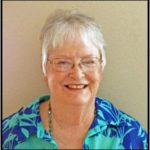 Judy is a 35-year member of the Santa Clarita Valley Computer Club. She co-facilitated the Southern California Regional User Group Summit (SCRUGS), a group of computer clubs in Southern California that met for over 20 years to share ideas and presenter information, solve problems, etc. Information shared at the meetings helped two groups remain active. She spent 23 years volunteering with the Southwest Technology Conference held in San Diego for for 20 years and in Pomona for three years as chair or co-chair. She was responsible for registration, scheduling speakers, and working with volunteers.
Judy taught adult education technology classes for over 20 years through her local high school district. She firmly believes in life-long learning and enjoys giving presentations via APCUG's Speakers Bureau.
She is a member of the Los Angeles FBI Senior Scams Working Group. In addition, Judy is a Pierce College Computer Applications and Technologies Department Advisory Committee member. They meet annually to suggest courses and hardware for the next school year.
---
LACS Audio Archive
To listen to the audio portion of past General Meetings in streaming format, in the right hand menu column click on the pointer triangle next to Podcasts. When the list of available Podcasts is shown, click on the desired podcast.