---
Oct 15 2019
7:30 to 9:00 P.M.
Westchester United Methodist Church
Fellowship Hall
8065 Emerson Ave.
Westchester, CA 90045
OCTOBER 15 GENERAL MEETING 
Topic:          Cyber Security for All of Your Devices
Speaker:     Bob Gostischa, Avast Software & APCUG Speaker's Bureau
Our security and privacy are constantly in danger of being attacked from many sources. Between ransomware, data breaches, cryptojacking, supply chain attacks and mobile malware, staying secure and guarding as much of our privacy as possible is a constant challenge. This presentation will cover how we can protect our computers (Windows and Mac), tablets, smart phones, and other smart and connected Internet of Things devices.
About the Presenter: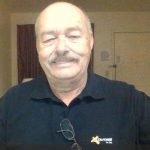 Norbert "Bob" Gostischa, after a successful career in banking, enjoys his retirement as an enthusiastic IT security expert, most notably for Avast Software, a global leader in cybersecurity products.
Avast has made security software for over 30 years and has more than 400 million users worldwide. Avast prevents 2 billion malware attacks every month. In 2016, Avast purchased AVG Technologies. In 2017, Avast bought Piriform (thus acquiring these products: Ccleaner, Defraggler, Recuva, and Speccy). Its best-known product is Avast Antivirus, the most often used antivirus software in the world.
Bob is a proud member of the APCUG Speakers Bureau. He has also helped to answer tens of thousands of questions and problems at Avast website's discussion and help forum since 2004. Bob's presentations are not a sales pitch for Avast. You can learn more about Bob's presentations and passions by going to his Blog and YouTube Channel.
---
User Friendly Archive:
To read an archived User Friendly issue, in the right hand menu column click on the pointer triangle next to User Friendly Issues. When the list of available items is shown, click on the desired one.
LACS Audio Archive:
To listen to the audio portion of past General Meetings in streaming format, in the right hand menu column click on the pointer triangle next to Podcasts. When the list of available Podcasts is shown, click on the desired podcast.
To Subscribe to the General Meeting mailing list:
Send a message with your name to:



In an effort to keep spam bots from harvesting e-mail addresses, the e-mail address above is published such that you cannot click through to your mail client.