January 11 GENERAL MEETING
MEETING TIME: 7:00 – 9:00 PM – Via Zoom
6:30 – 7:00 Socializing and Member's Questions
Topics: Two Factor Authentication; My Tips for Using YouTube
Speaker: Ron Brown, APCUG Speakers Bureau, Silvercom Computer and Technology Club, Mesa AZ.
Google is now auto-enrolling 150M (Gmail? Chromebook? Other?) accounts for Two Factor Authentication. 2FA is much more secure than passwords. Ron Brown will talk about why you should turn on Two Factor Authentication and five things to do before enabling Two Factor Authentication. Q & A. Then he will discuss how he uses YouTube with Q & A. Members who have other subjects or problems they want us to discuss can ask questions before 6:50 and at the end of the program (c. 8:30 – 9).
Meet Our Presenter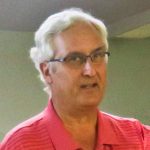 Ron is a retired technologist. He started as a Canadian Flight Surgeon and then started a family medical practice on Vancouver Island. Ron wanted an electronic office and bought an interest in a start-up software company in Calgary that made an Electronic Patient Record. As his family practice grew, so did his software company. For 20 years, he traveled across Canada and the U.S. giving papers at many conferences.
Ron retired, sold his medical practice and other business interests, and he and his wife traveled for two years. They bought a home in Mesa Arizona. Ron loves technology and spends his spare time doing presentations for Tech for Seniors and computer clubs. He spoke to us on Saving Your Life with Wearable Technology I and II (2020) and What Will 5 G Mean for You in 2021.
---
User Friendly Archive:
To read an archived User Friendly issue, in the right hand menu column click on the pointer triangle next to User Friendly Issues. When the list of available items is shown, click on the desired one.
LACS Audio Archive:
To listen to the audio portion of past General Meetings in streaming format, in the right hand menu column click on the pointer triangle next to Podcasts. When the list of available Podcasts is shown, click on the desired podcast.