---
MARCH 12 2019
7:30 to 9:00 P.M.
Westchester United Methodist Church
Fellowship Hall
8065 Emerson Ave.
Westchester, CA 90045
 "Google Searching with Better Results."
Speaker: Hewie Poplock,
Sarasota (Florida) Technology User Group and APCUG Speaker
The presentation will show various ways to get better results quicker when using Google. You will learn many tips and tricks to help you in your Google searches. There will also be numerous ways demonstrated to get information quickly without even having to go to websites: the answer can be in your search results. Learn many of the shortcuts and become a Google-It expert.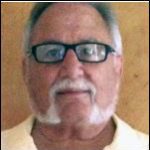 Meet Our Presenter
Hewie Poplock joined the Tampa Bay Osborne User Group and was amazed at how computer users helped each other. In 1987, he joined the Central Florida Computer Society (CFCS) and served as its President for four terms. He was also its Program Chair for many years. He is chair of the Windows SIG (Special Interest Group) and gives a remote Windows SIG presentation to the CFCS members each month even though he has moved to the Sarasota area. The presentations are held live, on the Internet and open to all user group members from around the country. There is a monthly newsletter that contains the meeting links and Windows news. You can sign up for it at https://hewie.net/winsig/ . He recently joined the Sarasota Technology User Group. Hewie also served as Vice President for the Association of PC User Groups (APCUG) and was webmaster for APCUG's Drupal website.
Professionally, Hewie is a former teacher, college instructor, business owner and manager, IT Manager and website designer. He is semi-retired, but he is active in technology user groups and frequently speaks to and teaches groups whose members are mostly seniors. Hewie has several tutorial videos on YouTube, as well as recorded Windows meetings on his website. As an advocate for Chromebooks, Hewie maintains a Chromebooks 4 Seniors website, http://cb4s.net/ .
---
Future Programs:
To be announced shortly
---
User Friendly Archive:
To read an archived User Friendly issue, in the right hand menu column click on the pointer triangle next to User Friendly Issues. When the list of available items is shown, click on the desired one.
LACS Audio Archive:
To listen to the audio portion of past General Meetings in streaming format, in the right hand menu column click on the pointer triangle next to Podcasts. When the list of available Podcasts is shown, click on the desired podcast.
To Subscribe to the General Meeting mailing list:
Send a message with your name to:



In an effort to keep spam bots from harvesting e-mail addresses, the e-mail address above is published such that you cannot click through to your mail client.