November 9  GENERAL MEETING
7:00 to 9:00 P.M.
6:30-7:00: Socializing and Questions and Answers

Because of restrictions due to corona virus we will be meeting "virtually"
via ZOOM.
Please look for the email sent out by our president the day before the meeting with the link to the ZOOM meeting. 
If you want to attend and are not a LACS member, please send your full name and email address to < leahjc@sbcglobal.net > before Nov 9. You will receive the link to the Zoom meeting by email.        

Topic: ENCRYPTION 
Speaker: Mark Schulman,
Computer Instructor, Software Designer, and Small Business Owner. He uses software encryption to protect medical records for a family medical practice and for a company that does small clinical drug trials.
Losing a laptop, smartphone, or flash drive might mean you're out some money, but it doesn't have to mean that your confidential data leaks out into the world. Learn how to use encryption software to protect your personal data on PCs, laptops, external hard drives, USB flash drives, and smartphones. Topics include:
– single-file encryption
– encrypted containers
– whole-drive encryption
– smartphone encryption
The presentation demonstrates several free software apps that make encryption easy to use for anyone. His office uses this software to protect medical records. 
About Our Presenter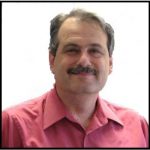 Mark Schulman has taught various programming courses for major corporations and worked on large software development projects. He uses encryption while managing the IT department for a group of family practice physicians and a small company that does clinical drug trials. His major geek interest is the computer technology that made moon landings possible in the 1960s. He lives near Orlando, Florida.
---
  User Friendly Archive:
To read an archived User Friendly issue, in the right hand menu column click on the pointer triangle next to User Friendly Issues. When the list of available items is shown, click on the desired one.
LACS Audio Archive:
To listen to the audio portion of past General Meetings in streaming format, in the right hand menu column click on the pointer triangle next to Podcasts. When the list of available Podcasts is shown, click on the desired podcast.