JULY 13  GENERAL MEETING
7:00 to 9:00 P.M.

Because of restrictions due to corona virus we will be meeting "virtually"
via ZOOM.
Please look for the email sent out by our president the day before the meeting with the link to the ZOOM meeting.
 6:30-7:00: Socializing and Questions and Answers
If you want to attend and are not a LACS member, please send your full name and email address to < leahjc@sbcglobal.net > before July 13. You will receive the link to the Zoom meeting by email.
Speaker:     JUDY TAYLOUR

 APCUG Speakers Bureau Member,
President, Santa Clarita Valley, CA Computer Club, and
APCUG Region 10 advisor.
Topic: All Things Google – There is more to Google than 'Google It.'
This presentation will explore Google's apps and hardware. Google strives to have the most comprehensive and diverse suite of apps and hardware that work together and would like to be your go-to ecosystem. All its apps are web-based and are designed to work seamlessly with each other. The core Google app is the Chrome browser and is the foundation of their platform. 
Meet Our Presenter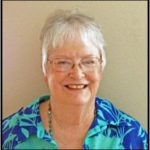 Judy Taylour is a 33-year member of the Santa Clarita Valley (SCV) Computer Club where she serves as President, Editor and Webmaster. She chairs several APCUG committees, an international organization of technology and computer clubs. For over 20 years, she was the co-facilitator for the Southern California Regional User Group Summit (SCRUGS), a group of Southern California computer club leaders have met quarterly to share ideas and presenter information, solve problems, etc. Judy taught adult education computer classes for over 20 years for her local high school district. She is a member of the Pierce College Computer Applications and Office Technologies Advisory Committee that meets annually to suggest courses and hardware for the next school year. A firm believer in life-long learning, Judy has spoken to us on The Cloud, Ergonomics, Digital Asset Estate Planning, Decluttering Your Digital Life, and other topics.
---
 User Friendly Archive:
To read an archived User Friendly issue, in the right hand menu column click on the pointer triangle next to User Friendly Issues. When the list of available items is shown, click on the desired one.
LACS Audio Archive:
To listen to the audio portion of past General Meetings in streaming format, in the right hand menu column click on the pointer triangle next to Podcasts. When the list of available Podcasts is shown, click on the desired podcast.