How People and Computers
Make the Metro Run Safely
Presented by:
Charles Weissman, Supervising Engineer
& Arleen Mills, Metro Rail Train Operator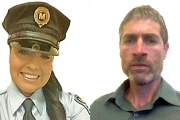 Computers run everything these days, including the Los Angeles' Metro light rail system. Our speakers are very experienced Metro employees. They will tell us how this is done – from planning, through construction and especially everyday operation. They will provide tips and suggest apps for our smartphones and computers and websites that will make our trips easier, faster and safer. Free literature on the system will also be available. Save the expense of parking at USC or downtown. Continue to get around even if you no longer drive. The fares are very reasonable (as low as 35 cents a trip), and you can read, sightsee or get something done during your trip.